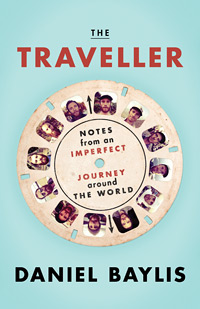 TWELVE MONTHS.
TWELVE COUNTRIES.
TWELVE TALES.
The Traveller: Notes from an Imperfect Journey Around the World
by Daniel Baylis, 2013
As Daniel Baylis approached his 30th birthday, he asked himself a tough question: Who's at the steering wheel of my life? The verdict came back unclear, so he decided to take immediate action. He gave up his job and his rent-controlled apartment to tackle one of his biggest dreams—to travel the world.
With an objective to not only see places but also to experience them, Baylis spent an entire year sampling a variety of volunteer positions. From an elementary schoolroom in Peru, to Edinburgh's Fringe Fest, to an organic goat farm hidden in the hills of Galilee (and many places and projects in between), he dove headfirst into immersive travel experiences.
With a touch of introspection and a heap of humour, The Traveller presents literary snapshots of twelve very distinct global destinations. What emerges is a portrait of an individual trying to be helpful, along with all the people who helped him along the way. Lively and compelling, The Traveller is required reading for anyone who dreams of international adventures—or for anyone who simply dreams.